coComment is one of this new web 2.0 sites that did the blogosphere's headlines a few times for it's interesting new features.
This site provides a nice feature that will centralise all the comments a user makes around the web. Giving a simple way to follow what you have posted on blogs and the replies to your messages.
coComment is supposed to be able to understand where you are posting, extract the site title, the article title, etc. However, it's not perfect and it's a lot easier (for you, and for your site's visitors) if you directly integrate the coComment tools into you forum post form.
This is where this plugin is useful, it's very simple to install and will override the SPIP forum form to integrate the coComment toolbar under the posting form (at the preview stage), allowing your visitors to keep track of what they have said on your site.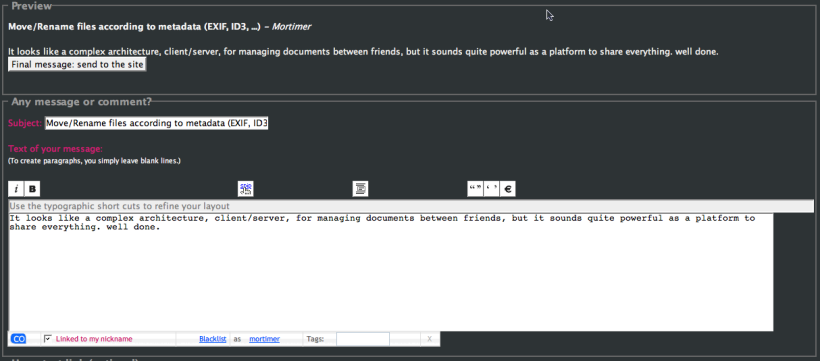 While it simplifies your visitors interaction with your site, it is also very interesting as coComment will provide interesting data on similar articles around the web, where your visitors also comments, etc. Another source of information for our growing big brother souls.
The installation is easy:
grab the plugin archive here,
extract it on your computer,
send (via FTP for example) the cocomment directory to the plugins directory on your site (create it if needed).
go to the configuration panel in the private area and active the coComment plugin. Clear the cache and your forum forms will now have the coComment toolbar integrated.
Note: This plugin might have conflicts with other plugins changing the forum form template, or with personalised forum form templates.
Overloaded files:
ecrire/balise/formulaire_forum.php
dist/formulaires/forum.html
dist/formulaires/forum_previsu.html