This plugin lets you edit current template files from the admin area. This can be very useful when you need to upgrade a template or fix a bug and you don't have any FTP access to the website.
Attention ! This is NOT a WYSIWYG UI, it simply offers a template code editor, embedded in your SPIP admin area.
New shortcut on public admin quick access bar
Plugin adds a new button named "Templates & CSS" (or "Debug > inclusion mode" if you're using the MiniBando admin quick access bar).

It lists all included template files used by the current web page, plus all the CSS files linked to it :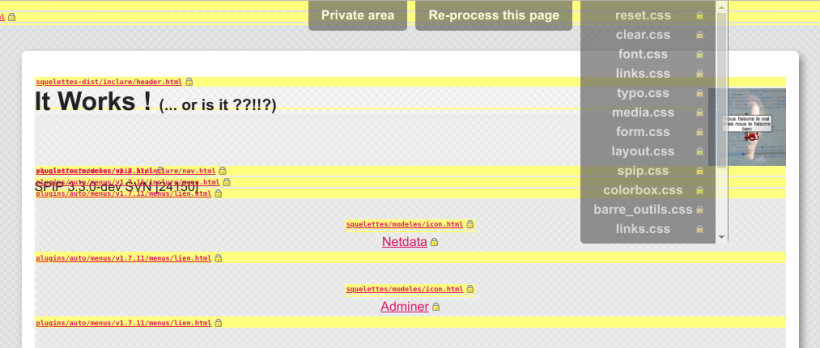 Even if you happen to use SPIP's CSS compression settings, SkelEditor will be able to find the original CSS files linked to your web page.
Hovering an included template's name highlights the block generated by the template. It then becomes easy to find out which template really produces the part of the web page you want to modify.
You can then clic on the template's name (or CSS file) you're focused on, to access edition mode for that file, in the admin area.
Editing files with syntax highlighting
You're editing your file in a text editor with matching, dedicated syntax highlighting.
If the file you'd like to edit happens to be a Plugin or a SPIP source file, it will be automatically saved as a working copy, in your own /squelettes template directory, with a comment header mentioning your name and the copy creation date.
Create; move; rename files
Admin UI also lets you create new files in your own /squelettes template directory
If you mention a filename with path, like modeles/exemple.html, sub-folders will be automaticaly created.
The same way you can also rename an existing file or, move it, mentioning a new path: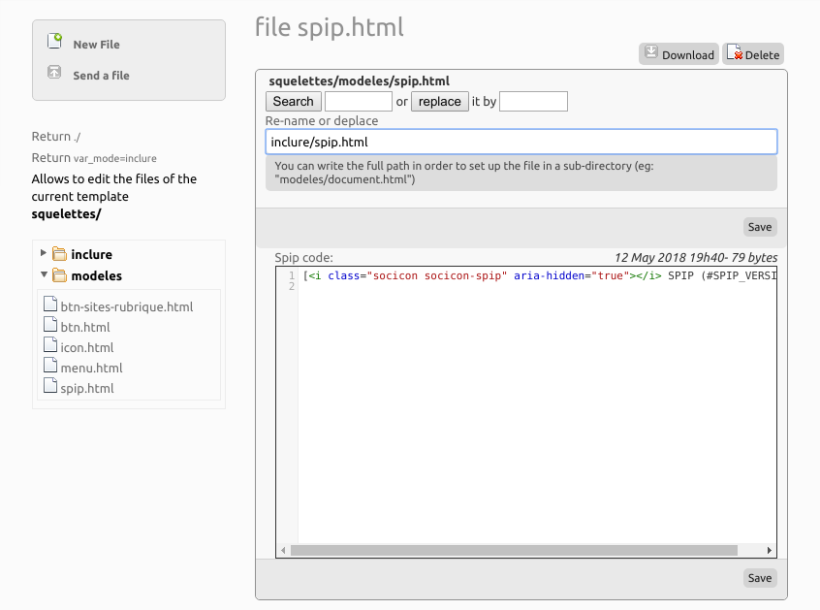 Upload
A button "Upload a file" lets you send a file from your device to your /squelettes template directory
Download
While editing a file, you can also download it with the dedicated button.